A BIG SUPPORT FOR THE PRODUCTIVE AND CREATIVE YOUTH
Taşyapı Group is preparing to support all talented students from across Turkey. The project will be managed by Group Vice-Chairman Ece Turanlı, the daughter of Group Chairman Emrullah Turanlı.
Emrullah Turanlı the Chairman of the Board of Directors of Taşyapı, appointed his daughter Ece Turanlı, the Vice-Chairman of the company to manage the project that he launched to support talented students. Making preparations to discover talented students, Ece Turanlı first held a "Renewable Energy" themed competition at Istanbul Technical University (İTÜ) Development Foundation Beylerbeyi Private Middle School. With 60 students from 17 schools in Istanbul participating the competition, the jury evaluated 39 projects. While the "Stop the Subway for Energy" project of the students from Darüşşafaka Eğitim Kurulu was named as the winner among guest schools, Journey of Microplastics project of the students from Dr. Natuk Birkan Middle School was named as the winner among İTÜ Development Foundation Schools. Ece Turanlı presented projects ranking in the top 5 in either school category, with valuable gifts.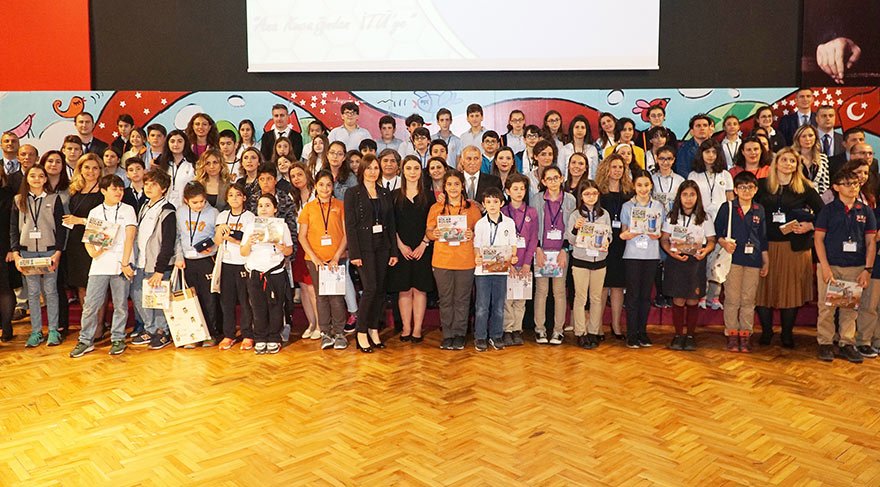 WE SAW THAT WE DID GOOD
Speaking at the awards ceremony, Ece Turanlı noted that the reason they supported this project was the importance her father, Emrullah Turanlı the Chairman of the Board of Directors of Taşyapı, attributed to hands-on training. Ece Turanlı who graduated from Sabancı University, the Faculty of Management Sciences, and speaks 3 languages, said that they understood the importance of the work that they did, and that it was their ultimate goal to turn their support to hand-on training into a project covering all 81 provinces and all districts of Turkey. Ece Turanlı added:
"We are all actively studying until the age of 25. We come home from school every night, do our homework, and prepare presentations. Unfortunately our education system requires the students to memorise. This is making our students feel like a fish out of the water when they graduate. People may attain analytical thinking at small ages. This project is a start to guide our children to analytical thinking. We, here at Taşyapı, are involved in this project to make it happen."
TEACH THEM ANALYTICAL THINKING
Underlining their desire for every child, while still a student, to be hardworking, productive, capable of analytical thinking, and able to use their education and thoughts in real life, Turanlı continued her words:
"My Father, Emrullah Turanli, always says 'I gave 40 years to my business life. I am ready to sacrifice all that I have gathered over these 40 years in this cause." The important thing is to encourage our children. Their age is suitable to achieve this. The projects that our children produced and demonstrated show their interest. All we have to do is to give them the opportunity. We are proud to host this project. We rewarded both the students in top ranks and all others to encourage them to participate in future competitions."
WE HAVE 10 MILLION UNEMPLOYED
Emrullah Turanlı Chairman of the Board of Directors of Taşyapı informed that the number of the unemployed reached 10 million, 12 per cent of the entire population. Turanlı added: "90 per cent of our unemployed are actually good and candid people with good intentions. Unfortunately, as they lack the professional experience and did not receive any hands-on training, they are unable to find jobs when they graduate. We need to train our unemployed people between the ages of 20 and 35 according to our country's needs and their skills, and employ them with a salary over the minimum wage."
HANDS-ON TRAINING IS A MUST
Underlining the fact that many Turkish sons and daughters are employed and have to get by with a minimum wage, and that employers are unable to offer higher salaries as they cannot obtain a higher efficiency. Turanlı continued:
"Companies need to increase the efficiency of its personnel through hands-on training. It is necessary to have one person do the job of two and pay that person twice the salary. In order for our country to be able to compete with the world, prosperity, happiness and peace to increase, and terror to stop in the coming centuries, our sons and daughters must receive hands-on training. The story that we wrote today, is only one branch of hands-on training. Our children really enjoyed themselves today."
PEOPLE MUST DO THE JOB THEY LOVE
Arguing that children must be educated in the fields that they love and believe in until they graduate from university, Turanlı said that people must do the job they love in order to be successful. Turanlı said: "You people don't do the job they love, they can be neither successful nor happy. The youth nowadays graduate without any hands-on experience. There are no activities. They are just looking for jobs with a diploma. There are no jobs; even if they do find one, they work for minimum wage. In order to avoid these issues, we must teach our children to be productive and creative. Our children must actively work, think, research and put their experience to use, with love. Our children must see at this age that they can succeed and be rewarded if they work for it. We will expand our support to 81 provinces of Turkey to educate the creative and productive youth."
AN AWARD FOR ENERGY FROM STREAMS
The project Emin Turanlı, the son of Emrullah Turanlı, was involved in, also received an award. The group Emin Turanlı was involved in developed a project entitled Energy in the depths. The project which places turbines in the intersection of two types of streams in Bosporus, and generates energy using the rotation of the turbines, received the mention award.
THE GOAL IS TO ENCOURAGE STUDENTS TO RESEARCH
Speaking at the event, İTÜ Development Foundation Beylerbeyi Private Middle School Physical Sciences Chair Sevgi Döndü thanked Emrullah Turanlı for their support. Mrs. Döndü said "The primary target of the 1st Physical Sciences Project Competition is to promote the effective use of renewable energy supplies and awareness of the students about the importance of the production of alternative supplies. It is also to encourage students to do research and give them opportunities to produce ideas and projects in order to implement technologies that offer higher efficiency for less energy." İTÜ Development Foundation Beylerbeyi Private Middle School Principal Aybars Şehirtay noted that they held the competition to see the kind of projects that students could developed for renewable energy supplies. Mr. Şehirtay said, "The important thing is to widen the children's horizon. They exhibited the projects that they developed to harvest energy without harming the nature."